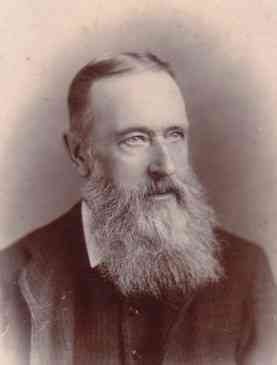 Thomas Fieldwick 1828 - 1913
'a tall, thin, gentlemanly man'
Extract from Time Flows Back - a reminiscence by Mary Dumbrell
Thomas Fieldwick was born in 1828 in East Grinstead, where he married Sarah Ann Sheppard in 1858. They moved to Ditchling shortly afterwards. They had eight children, three of whom died in infancy and are buried in Ditchling churchyard close to the garden wall of their home. Thomas took over an established grocer's shop at London House, which stands in a prominent position at the crossroads - now the site of 'The Green Welly'. Villager Mary Dumbrell wrote of him, 'Mr Fieldwick was a tall, thin, gentlemanly man'. He was also an enterprising businessman, gradually adding extra departments to his shop, first an insurance agency, then a Post Office and savings bank, and finally a drapery and stationery department.
He quickly integrated into village life and was treasurer for the National School. He contributed to the enlargement of the school in 1868 and the extension to the school master's house in 1873. He was a churchwarden and a trustee of Ditchling's Sprott's Charity, where he helped decide which villagers would receive financial benefit.
After his retirement, the business passed to his son Joseph Sheppard Fieldwick. Thomas, Sarah and their two unmarried daughters moved to Stanford Avenue, Brighton. Sarah died soon after in 1895, but was buried next to her children in Ditchling. Thomas was also buried in St Margaret's churchyard following his death in 1913.