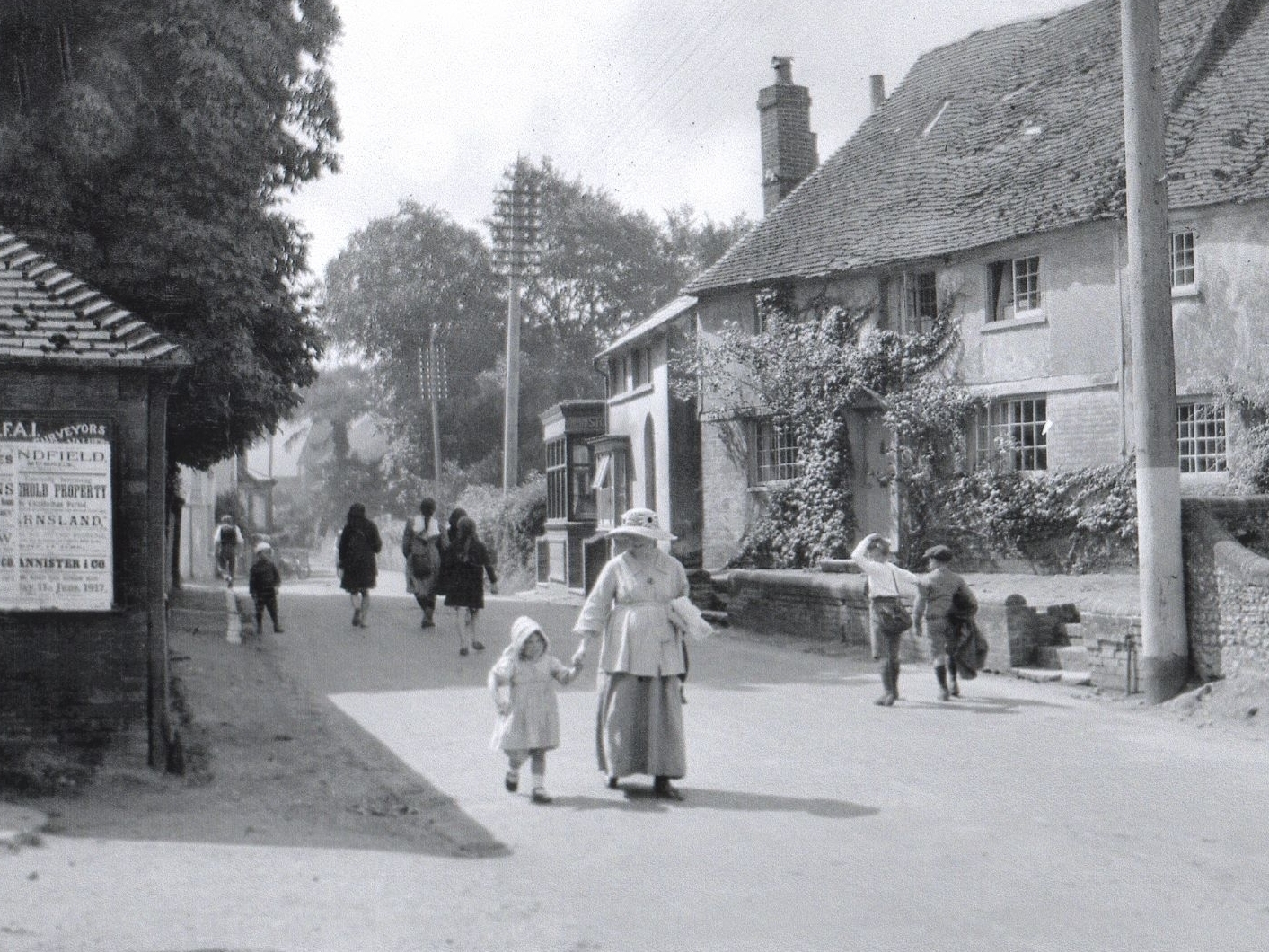 'Had you been walking down the High Street or out in the countryside in the early 1900s and chanced to encounter a rather demure middle aged lady wearing a long dress of muted colours and a large hat, the last thing that would have crossed your mind was that over the next twenty years she would develop into one of the most prolific and versatile authors in British history; that she would become an acknowledged authority on Sussex ... This was Esther Meynell...'
Extract from the Ditchling Character Talk on Esther Meynell by Tom Dufty
Photo: Esther and Joanna Meynell, North End Ditchling, c 1919 reproduced with kind permission of the Meynell family
Look into the history of any village and you will find eccentric characters and Ditchling is certainly no exception.
In our research we have traced the lives of some of the more colourful village characters whose connections with Ditchling have been recorded in their own words and in the reminiscences of their neighbours. Their stories have been told in a series of talks entitled 'Ditchling Characters'. To date these have featured two Vicars, a Doctor and a Headmistress, an author, a playwright, a mime artist, a nature writer and the lady who 'lived with birds', a 19th century shoemaker, the captain of the cricket team, and a member of the Sussex Secret Auxiliary Unit.
This research paints a vivid picture of the village in the past and the people who have lived here ... and there are many more stories to tell.
THE HEADMISTRESS
Helen Knowles
THE DOCTOR
Frederick Linton-Bogle
THE SHOEMAKER & CHOIR MASTER
Peter Parsons
THE CAPTAIN OF THE CRICKET TEAM
BILL KENNING
THE NATURE WRITER
FRED WOOD
THE MIME ARTIST
JOY SINDEN
THE FARMER & SECRET AUXILIARY LEADER
George Thomas
—THE VICAR
Arthur Crookshank
— THE AUTHOR
Esther Meynell
THE VICAR
Rev Francis Norton
THE BIRD LADY
Len Howard
THE ARTIST & PLAYWRIGHT
Amy Sawyer
THE ARTIST & TEACHER
Mrs Clare Pepler
THE VICAR
Revd Arthur Belcher
THE COLONEL
Richard Alexander Steel
We are also happy to tailor a talk to your particular interests ...
The Red Cross Auxiliarly Hospital in WW I
The development of the Ditchling National School Buildings
How to build a Family Tree
Ditchling for Beginners
Life's work well done: History & Design in St Margaret's Churchyard
Ditchling - Why Here?
an exploration of the landscape for clues of the early settlements
South Downs National Park & Ditchling
the history and significant facts of the Parks; the campaign for a South Downs Park; and the campaign for Ditchling's inclusion.
Distinctive Ditchling
its rural location; ancient history; historic self-sufficiency; interesting buildings; Industrial heritage; arts & crafts heritage; non-conformist heritage
Ditchling in Detail
recording interesting details in Ditchling's streets which might otherwise go unnoticed
The Spirit is Willing but the Flesh is Weak
how Ditchling became a centre for non-denominational religions - taking an often light-hearted view of village life in both church and pub
Roads & Toll Roads