Our War Stories - Frank Ellis Upshall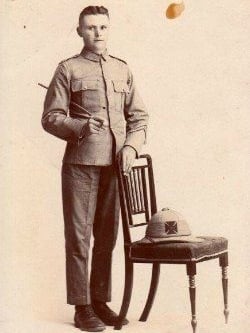 Ellis was born in Stamford, Northumberland, but grew up in Wiltshire where his father Henry was a dairyman and cheesemaker. In 1914, aged only 16, he joined the Royal Wiltshire Regiment.
Ellis was on parade with his regiment, ready to march to the station destined for France, when he was withdrawn from the ranks, his mother having written to the Commanding Officer stating his true age. Although under age, Ellis was not discharged and served with the remainder of his regiment in India relieving the Royal Sussex which was sent to France.
By the time of his demobilisation Ellis's family were in Sussex and he found employment as a poultryman at Truslers Hill Farm, Albourne. He marrried Annie Simmons from Sayers Common in November 1924. Annie's brother was killed in action in France a few months before the war ended.
More histories like the story of Frank Upshall can be found in 'Our War Stories'. This publication commemorates the Centenary of the Start of the First World War and draws together stories contributed by people from our community. Family memories, letters, photographs, diaries and official documents tell of the experiences of soldiers, sailors, nurses and airmen and also of the families and loved ones they left behind. Alongside the personal stories, information is included on Ditchling's artists, the Home Front and the men who are remembered on the village War Memorial.

Running through this diverse collection is a shared will to give everything to the cause. For many this meant the ultimate sacrifice of their lives, leaving behind grieving families and friends while those who survived were changed by the war and returned home to find their country too was changed.

This publication is a tribute to those who gave their lives and to a tragic but steadfast generation. We hope it will allow the reader time to reflect on the stories told of a conflict that was hoped would would put an end to all wars.

A4 book: pages, colour illustrations

Cost: £12.00 plus p & p