Windows on Ditchling - How many names on the War Memorial are from WWI?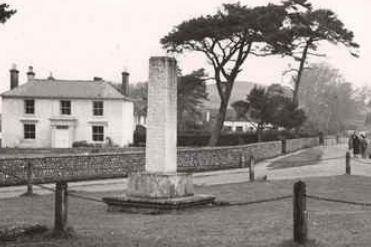 At the end of the First World War a War Memorial Committee was set up in the village and in August 1920 the War Memorial was erected on this piece of ground known as Pond Green. Villagers were requested to help level the ground and to donate the local sandstones that now surround the triangle of grass. These stones were brought along from village gardens, some by the grieving families.
The war memorial was designed by Eric Gill and cut by his assistant Joseph Cribb. At the ceremony of dedication the memorial was unveiled by Col Attree whose only son Francis was killed in 1915 at the Second Battle of Ypres.
The memorial commemorates 20 local men who died in World War I. After the Second World War thirteen further names were added.